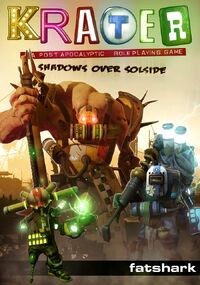 Shadows Over Solside
is the first of three major
Krater
DLC releases, containing the core game. The official site describes the content as follows:
The main story told in Krater begins in Shadows over Solside, the first of three episodes set in the Krater world.
Shadows over Solside opens up one of three major factions located in the crater, namely the Solside nation. It allows you to explore its many towns and settlements or wander of to explore the wilderness.
Start to explore Krater from the town of Norrmalm, a lively hub close the ridge that separates the crater nations from the rest of the world. There you will find plenty of people that can guide you in how to set up a team and get them proper equipment. They may also be able to hook you up with some, i not lucrative, but at least paid assignments.
First player race is humans who comes with four class specializations (Bruiser, Medikus, Regulator and Knife-Looney).
First episode of the Krater trilogy main story and more than 200 side quests.
Full access to the Solside nation and its array of towns and settlements.
A number of human and less-human enemy factions as well as wasteland beasts and Underside monsters.